FOUNDER and HEAD OF SCHOOl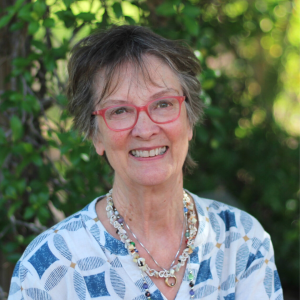 Managing Founder: Pam Nelson
Pam retired from Dow in 2001 to pursue a passion for bettering the educational options available to families. She co-founded her first school with Barbara in 1997 in Sugar Land, TX. In 2004, she co-founded Montessori House for Children with her husband of 50+ years. She is the proud mother of two daughters, grandmother of 6 grandchildren, and great-grandmother of five great grandchildren.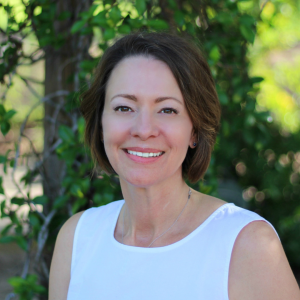 Head of School: Barbara Nelson
Barbara discovered and fell in love with the Montessori program when her oldest daughter first attended a Montessori School in 1991. Barbara co-founded her first school in Sugar Land, TX, in 1997.  She became the Head of School at Montessori House for Children in 2004. Barbara holds a Bachelor's Degree in Early Childhood Education and Administration, AMS Early Childhood Montessori Credentials, and is certified as a Positive Discipline Parent Educator. Barbara is passionate about the holistic approach of Montessori education. She loves the skills Montessori Children develop which allows them to contribute to society in a meaningful and profound way.
Director of School Operations: Blanca Terán-Smith
Blanca joined MHFC in 2015 as a classroom assistant and transitioned into Administration in 2016. She has a Bachelor's Degree in Communications and a postgraduate degree in planning and managing event productions.  Blanca also runs an event planning business serving the Houston/Katy area. Blanca has two children attending university and is an advocate of  Montessori Education.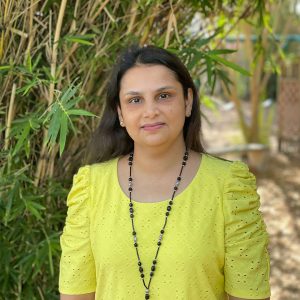 MONTESSORI CURRICULUM Director: Rujuta Arya
Rujuta joined MHFC as the Curriculum Director in 2022. She strives to equip students with the tools they need to become lifelong learners, while working to establish an exciting and engaging learning atmosphere where children feel comfortable and secure. She has a Bachelor's degree in Business Administration with a major in Economics from Mumbai University, India. She holds an AMS (American Montessori Society) credential in Early Childhood having served as a Montessori classroom teacher, curriculum coordinator, and a head of school.  She is deeply committed to the Montessori way of education and remains a lifelong Montessori learner. Rujuta likes to travel, read, cook, and spend time with her husband and two kids.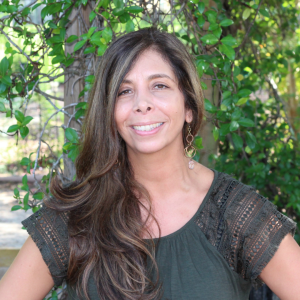 Director of Community Outreach: Norma Angulo
Norma joined MHFC in 2010 after many years of working for a Maritime business company. She started at MHFC as a parent volunteer and then took a position in administration as the Parent/ Community Liaison. The mom of two Montessori children, Norma is passionate about and well acquainted with Montessori philosophy. Born in Mexico City, Norma speaks English and Spanish and loves welcoming and getting to know, children, and families at MHFC.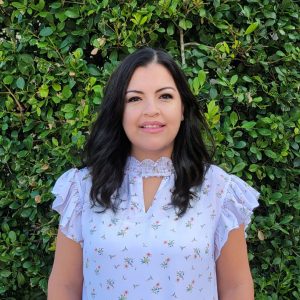 Director of Admissions: Jessica Diaz-Barrantes
Jessica Diaz-Barrantes was born in Costa Rica and moved to the United States in 2004. She earned a bachelor's degree in Early Childhood Education in Costa Rica from Latina University, and later earned a master's degree in Psychology with an emphasis in General Psychology, from Grand Canyon University. Jessica is passionate about the Montessori philosophy, as well as helping and learning from others. In her free time, she enjoys spending time outside with her husband and daughter.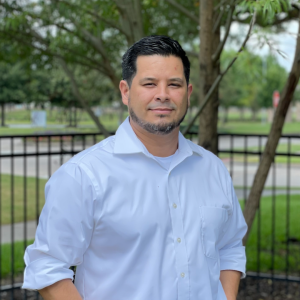 Food Services Manager: Ryan Caridad
Ryan Caridad was born to Uruguayan parents in Houston, Texas. He has lived in Uruguay for 5 years. Ryan attended the University of Houston majoring in hotel and restaurant management with an emphasis in Food and Beverage. He has been in the food and beverage industry for 20 years holding various positions from a waiter, busboy, cook, dishwashing all the way to Food and Beverage Director. Ryan enjoys spending time with his wife and 3 children, traveling, eating out, and going to events with his children.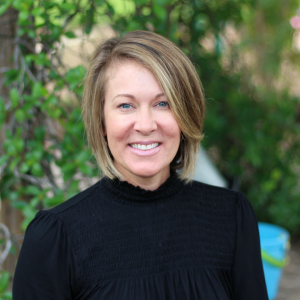 Business & Strategic Planner: Margie El-Moussa
Margie Nelson El-Moussa, a Houston native, originally joined MHFC in 2006. She has a business degree, master's in finance, and Early Childhood Montessori Certification. Margie El-Moussa believes wholeheartedly in holistic education and feels passionate about Montessori education.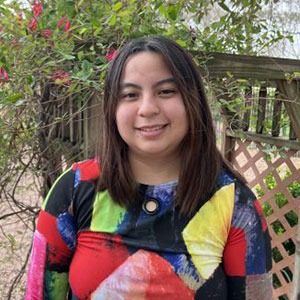 FRONT OFFICE: BRITNEY SAENZ
Britney joined MHFC in 2021. She is currently pursuing a bachelor's degree in Business Administration. Britney is dedicated to providing the best possible care for students as well as excellent customer service to families. She is very passionate about the Montessori philosophy and loves sharing her passion. She enjoys crochet, coloring and reading in her free time.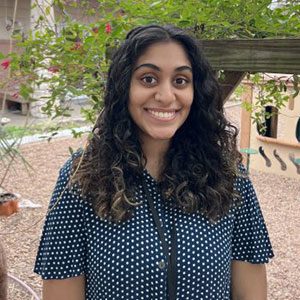 FRONT OFFICE: Salmah Piprawala
Salmah Piprawala joined MHFC in 2022. She graduated in May 2022 with a bachelor's degree in Human Development and Family Sciences from Texas State University. Her family is from Trinidad and Tobago, and she grew up in Houston, Texas. Salmah is passionate about early childhood education and loves how the Montessori curriculum allows students to develop on their own timeline. In her free time, she likes to try new foods with her partner, watch Marvel movies, and play with her dog, Sirius Black. 
LEAD MONTESSORI CREDENTIALED TEACHERS AND ASSISTANT GUIDES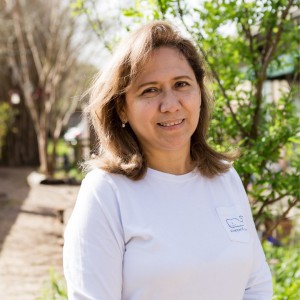 Toddler 1: Glenda Fuentes
Glenda has a bachelor's degree in Anesthesiology, earned while in her home country of El Salvador.  In 2013, Glenda joined the MHFC Montessori Teachers team to begin her second career as a Montessori Toddler Guide.  She loves working with toddler-aged children and finds their capabilities and level of independence intriguing. In June 2021, after having eight years of experience as an Assistant Guide, Glenda began working towards her AMS Montessori Infant-Toddler Credential from the Houston Montessori Center.  
Assistant: Yanaig Fleitas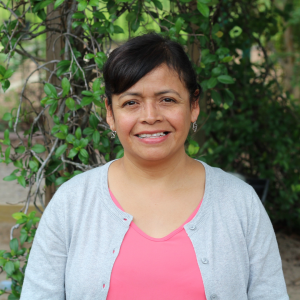 Toddler 2: Maria Aguilar
Ms. Maria joined the Montessori Teachers team at MHFC in 2012; she has always loved working with children. She believes that love and patience are essential when working with children. She is devoted to her faith and spends a great amount of time during the summer months serving on mission trips.  Maria earned her AMS Montessori Teacher Certification from the Houston Montessori Center.
Assistants: Roseline Adekanye, Aloha Gonzalez, and Jennifer Cortes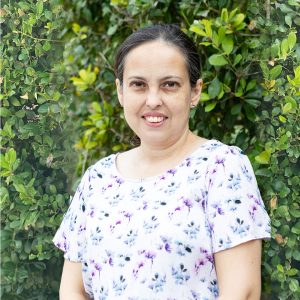 Early Childhood 1: Rita Basu
Ms. Rita joined the MHFC family in 2017. She soon discovered a passion for working in an early childhood Montessori environment. Inspired by her family and colleagues, Rita decided to further her education in the United States, where she earned AMS Early Childhood Montessori Credentials from Houston Montessori Center. Rita enjoys writing, arts and reading. She is a proud mom of two children. Originally from India, Rita and her family now reside in the Katy area.
Assistant: Krupali Bhatia and Madhavi Choragudi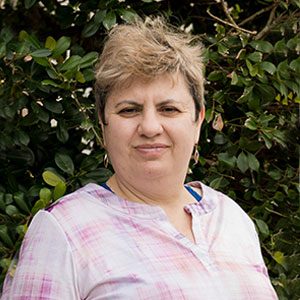 Early Childhood 2: Anna Rubin
Ms. Anna was born in Ukraine and moved to Israel after graduating high school. She earned a Practical Engineering in Architecture degree in Israel. She moved to the United States with her husband, where her son and daughter were born. She found interest in Montessori education when her daughter attended Montessori school. Ms. Anna earned her AMS Montessori Early Childhood credentials from the Houston Montessori Center and worked at Montessori school for 10 years as an assistant and a lead. She is fluent in four languages and enjoys storytelling, singing, and art creations. Ms. Anna believes that the Montessori environment helps children to develop a love for learning and helps them prepare for life—to become peaceful, patient, supportive, kind, and responsible human beings.
Assistants: Lima Haikal and Fariha Shere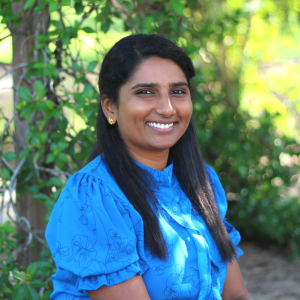 Early Childhood 3: Lakshmi Thirumalai
Ms. Lakshmi joined the Montessori Teachers team at MHFC in 2014 after many years of teaching experience in India and the US. She has a master's degree in management and earned her AMS Montessori Early Childhood Credential from the Princeton Center for Teacher Education in New Jersey. She is a certified Positive Discipline Parent Educator and Brain Gym instructor. Her special interest is to facilitate learning for children with learning differences.
Assistants:  Karla Tarazona and Christina Emehorole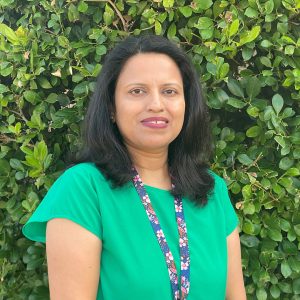 Early Childhood 4: Maitreyi Pampattiwar
Ms. Maitreyi first joined our MHFC team in 2008, and after 7 years, she took personal leave to support her family.  In August of 20222,  Maitreyi rejoined our School and we are most grateful for her return.  In addition to holding a Bachelor's Degree in Architecture, she earned AMS Early Childhood Montessori Credentials from Houston Montessori Center. Ms. Maitreyi believes a child's education shouldn't aim to prepare him for school but for life beyond the classroom. Maitreyi lives with her husband and daughter, who is attending medical school, and she enjoys traveling around the world, exploring landmarks, and experiencing different cultures.
Assistants: Sweta Mishra and Amara Okwegba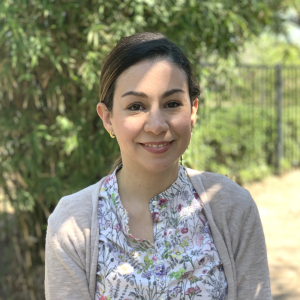 LOWER ELEMENTARY A: Alexandra Rohl
Ms. Alexandra joined the Montessori Teachers team at MHFC in 2016.  She was born in Caracas, Venezuela, to a multicultural family; one side of her family is Texan and German, and the other side is Italian Dominican. She earned her Bachelor's Degree in Modern Languages. After a career in the marketing and advertising field, she moved to Texas with her family and decided to pursue teaching. She fell in love with Montessori Education after her daughter attended a Montessori school in Corpus Christi, Texas. She started her career in Education in 2016 and  earned her Elementary 6 – 12 AMS Credential from the Gulf Coast Montessori Teacher Education Center. 
Assistants: Rosario Via and Luisa Forero-Botero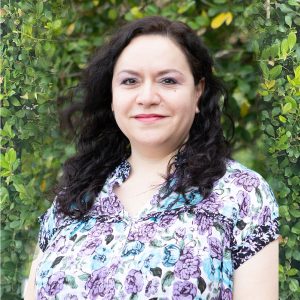 LOWER ELEMENTARY B: Yadira Hernandez
Yadira first joined the MHFC community as a parent in 2012. Through her children's enrollment, she discovered her love for Montessori education, which inspired her decision to shift careers from a Geologist to a Montessori educator. In 2021, Yadira joined MHFC as an Elementary Guide. She completed her Lower Elementary training in 2022 and holds a bachelor's degree in Geology. Yadira was born in Mexico and moved to the United States in 2010. She has two children and enjoys spending time with her family.
Assistants: Ebtisam Agbaria and Annabel Boutkan (Nature Education)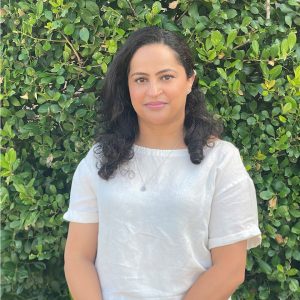 Upper Elementary: Elisa Jiwani
Elisa was born in India and came to the United States with her family in the late '90s. She joined the Montessori Teachers Team at MHFC in 2018 and is married to her supportive husband, and together, they have a teenage daughter. Elisa completed high school in Oklahoma City and earned a Bachelor of Art in Educational Studies, emphasizing Interdisciplinary Studies. After many years of dedicated services in the education community, she decided to pursue her Montessori Teachers Credential. She earned her Elementary 6 – 12 AMS Credential from the Gulf Coast Montessori Teacher Education Center. Her combined experience in public and Montessori schools helped her define her passion for the Montessori philosophy and methodology.
Assistants: Marla Grajeda and Annabel Boutkan (Nature Education)