Biliteracy is good for the brain. Students learn and maintain languages more readily when exposed at a younger age, and they build strong social connections and cultural awareness.
From the beginning of their educational journeys, students in language programs see increased cognitive skills, creative dexterity, and enhanced problem-solving skills.
As an AMS Verified School, our Montessori classrooms are designed to cultivate minds and encourage the development of all students. A Montessori education is our school's primary focus, complemented by a variety of spoken languages from around the world, with Spanish being our predominant second language.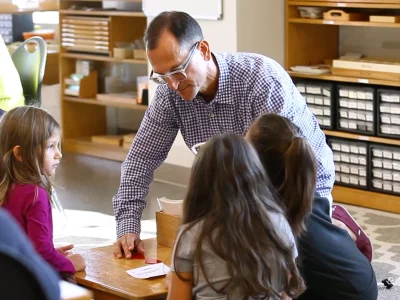 Montessori Spanish PRogram
AUGUST – MAY (ACADEMIC SCHOOL YEAR)
Academic Day Program
8:30 a.m. – 2:30 p.m.
Full Day Program
7:00 a.m. – 6:00 p.m.
JUNE – AUGUST (SUMMER PROGRAMS)
10-week Program
We are located in Richmond, TX, just West of Houston, easily within daily driving distance of Katy, Sugar Land, and Fulshear.
Language Program for Toddlers
Toddlers are rich with vocabulary! Toddler-aged children are in a period of development that thrives upon language acquisition. During this unique period of time, children develop vocabulary and comprehend the meaning of words from any spoken language. Guides in our toddler community speak interchangeably between English and their native Spanish language.
Preschool & Early Childhood Language Programs
Preschoolers in our Early Childhood program are exposed to the many different languages of our guides. The lead guide presents the Montessori curriculum in English, and assistant guides regularly communicate in their native language, which could consist of Spanish, Hindi, Arabic, Russian, etc. (depending on classroom placement). Additionally, Spanish class begins at the Early Childhood level and is taught by a native Spanish speaker. The class introduces vocabulary, songs, and literature in the Spanish language.
Language Program for Elementary School
English and Spanish are the primary languages of the Elementary school programs. Lessons are presented primarily in English, except for the Spanish language curriculum and supplement materials. Native Spanish-speaking guides converse interchangeably between Spanish and English. Spanish class is incorporated into the program, as well as Nature Education, PE, and fine/ applied arts.
Montessori Language Curriculum
"The development of language is part of the development of  the personality, for words are the natural means of expressing thoughts and establishing understanding between people."
– Dr. Maria Montessori
The Montessori Language curriculum consists of multiple linguistic components studied by the child simultaneously. As the curriculum progresses in a three-year cycle, from the concrete to the abstract, each curriculum area is revisited for further understating.
The Montessori language material includes visual stimuli. Each part of speech is represented by a wooden symbol with geometrical shapes (triangles, spheres, rectangles, etc.). Some lessons will consist of a story that explains the use of this symbol, and children are encouraged to use these wooden symbols to represent the function of the word.
Other Montessori language activities and lessons are illustrated with three-part cards that make it easier for the child to interact with new information. This kinesthetic approach helps the child have a visual and sensory experience, and therefore, better understand how language is organized and applied.
The introduction of grammar happens organically using miniature environments with impressionistic animals and everyday materials found in the classroom. Next, children begin to explore the function of the word. Then, they are introduced to the parts of speech with beautiful lessons that strike the imagination.
As they progress further, children begin learning sentence analysis, mechanics of writing, phonograms, verb conjugation, and reading.
New concepts will be introduced once the child reaches upper elementary, and some others will be revisited.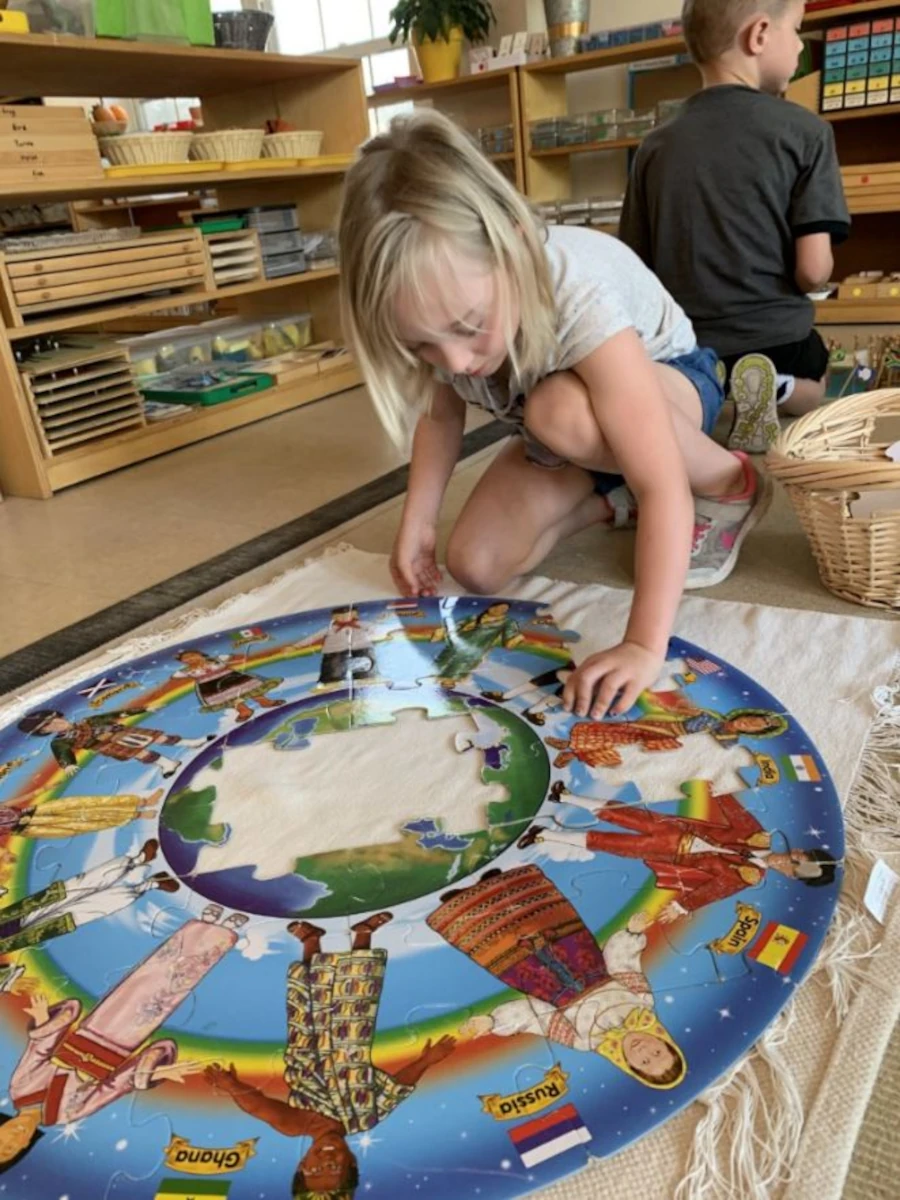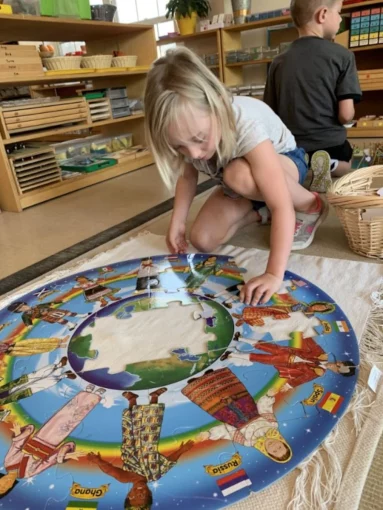 Hear From Our Montessori Students